French values and manufacturing of the mariniere
A durable and authentic garment still made in France since 1939
A sustainable garment, matching our values and our customers
If Orcival tops are "fashion", with new colours stripes each season, they are also made to last. This explains why some of Orcival fellow customers keep their marinière for almost 40 years long!
Thus, some vintage Orcival Marine Nationale marinières, featured by a marking ink ID number, are upcycled in secondhand clothes stores and this way, give Orcival really good press: our true marinière is timeless and long-lasting.
Orcival stays away of fast-fashion industry, and its countless collections and throw-away garments, preferring manufacturing less, but well.

Orcival fears neither competition, nor counterfeits; as its motto goes "often copied, never equaled", no one can steal its history or iconicity, and hardly its know-how.

The bee-badge on every Orcival top is helping you, since 1939, to find out the genuine, real marinière.
The French Navy jersey by Orcival kept from these times its inimitable style alongside its right fitting.

In 1917, Gabrielle Chanel adapted army's jersey tops into a unisex wear: thanks to her, ladies can also wear Tee-shirts and jerseys. Yves Saint Laurent and Jean Paul Gaultier both designed garments derivate from the French Navy jersey; indeed, the jersey is as unisex as American denim jeans. Then, Picasso, Brigitte Bardot, Jean Selberg, and countless stars will contribute too to its status ; Picasso in particular adopted it to highlight its transgressive & universal codes. This top lives in History, carrying out a strong and original message, being deeply rooted in mavericks' & trend-setters stories.

Jean Paul Gaultier, 70, is a famous French designer who has made collections for the general public as well as for the stars. He has also created his own label, of which he presented several collections at the Salon International de la Haute Couture in 2013, with the historic sailor shirt as his flagship product.

The Orcival's heavy cotton jersey matches the codes of the original French Navy jersey, designed and manufactured for tough workwear formerly, meaningful urban-wears today. The more you wear it, the greatest "patina" it will acquire. Its unisex image seduces all generations.

This is a casual product, often associated with the t-shirt or pullover family, the true mariniere is historically with long sleeved but equally popular in wardrobes in short sleeve version.
100% made in France since 1939 in our own workshop
Each Orcival top is something unique and special, mixing iconicity and authenticity.
Orcival today still selects its own yarns with care, and has retained its manufacturing base (fabrics and t-shirts) in France, in order to guarantee for its marinières the highest quality and genuineness.
Manufacturing T-shirts in outstanding fabrics is key to be consistent with Orcival's t-shirts need for longevity, since their basic quality had its roots in usage value and functionality.
Orcival has become an iconic brand showcasing timeless French Marinère because people wearing Orcival share the same passion we share in manufacturing the tops.

Orcival's commitment to provide an authentic product, 100% made in France, in the right fit, is central to the brand's ethos and which has led to our consumers becoming real fans of the brand.

Orcival is a genuine French manufacturer of the Basque shirt, making the marinière from the thread to the top on venerable Rachel looms for decades, meaning Orcival's marinière "Marine Nationale", once made for the French Navy, is the epitome of the iconic French striped shirt. Then, ORCIVAL iconicity lies in its history & specialization: since 1939. Orcival has been founded & dedicated for manufacturing sailor shirts – contrary to many other firms which began to manufacture marinières only in the 70's or 80\'s, when the marinière was already turned in a –widespread– fashion icon. Many brands went on a relocating spree to tackle mass-market, sacrificing quality over quantity.
But at Orcival factory quality always prevailed when no one believed in Western manufacturing, keeping vivid its savoir-faire in France.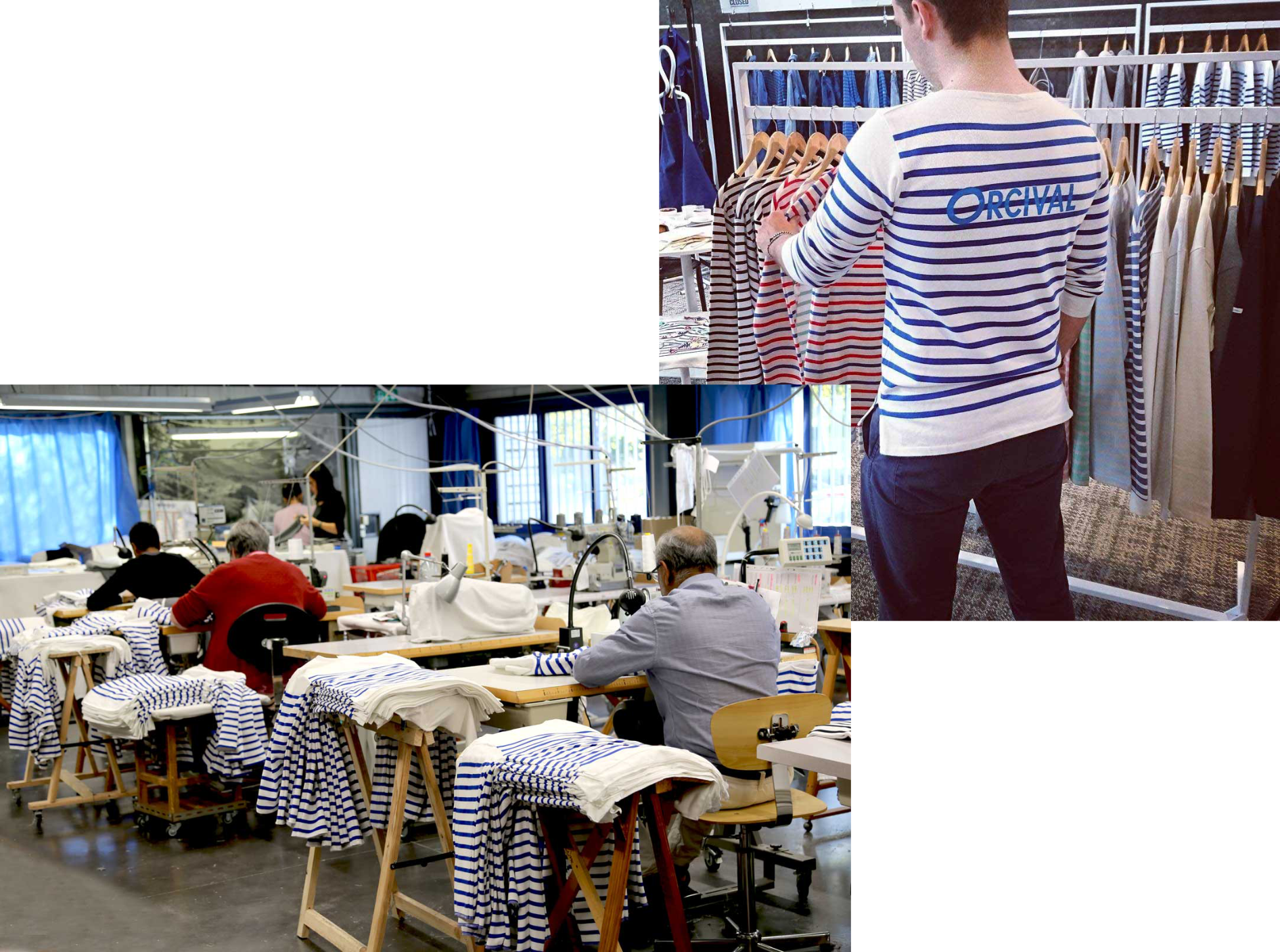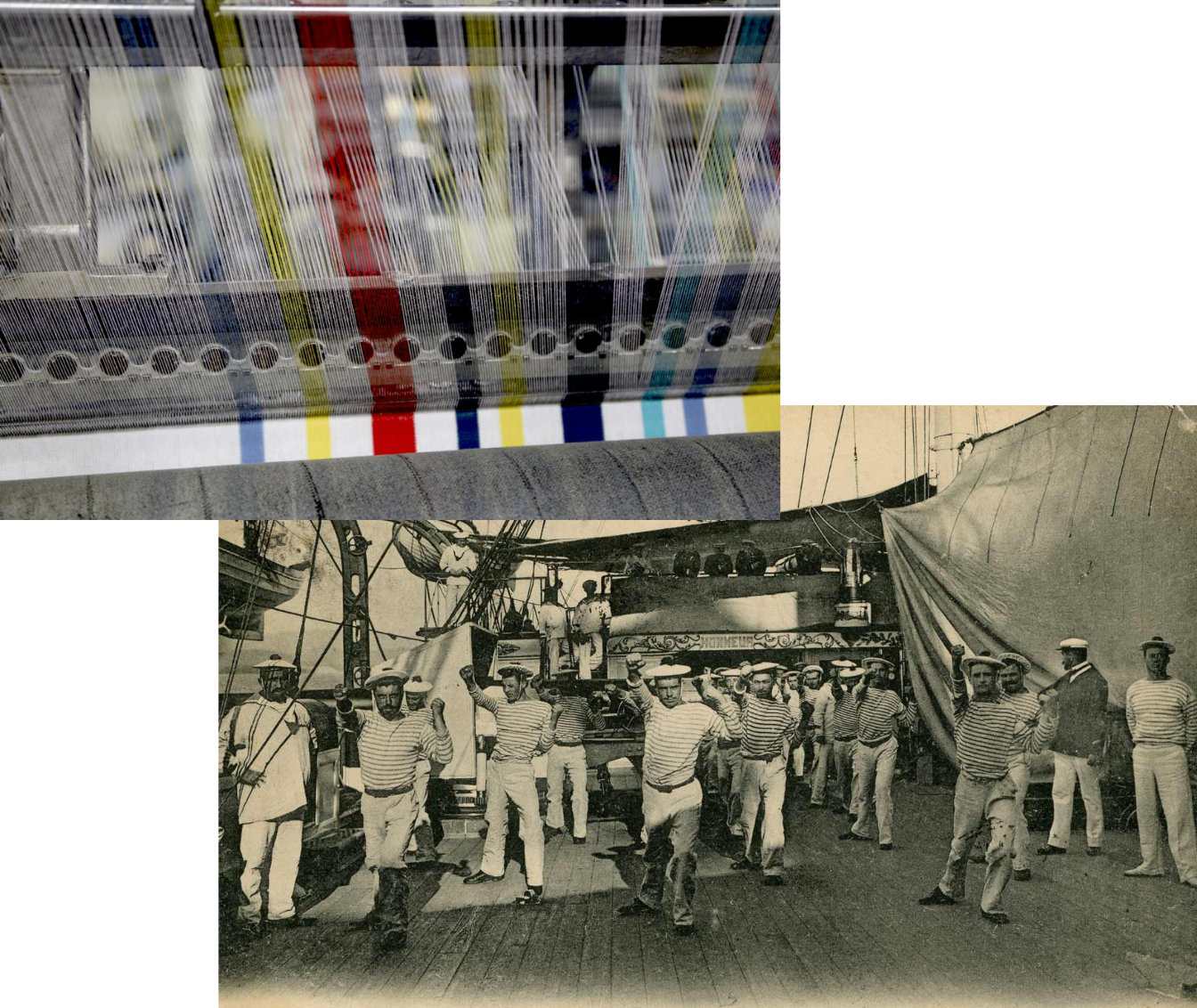 A brief history of "Marine Nationale" jerseys
The French Navy T-shirt fabrics is called Rachel because it is made with very specific looms dating from the 1850's. The actual development of this technology begins in the 1960's where professional production for the French navy is added to the ever-growing consumer production....
The skill of such knitting machines, which look like looms, lies in their capacity to create complex designs, such as the stripe jersey worn by the artist Pablo Picasso in 1952 at Vallauris, in a subtle mix of irregular stripes that classic looms are simply unable to reproduce.
Moreover, marinieres thanks to the blocked knit of the Rachel jersey do not distort and thus retain a very good hold over time. Their stripes remain horizontal and parallel thanks to the fabrics meshes. That's why the true French marinière is so durable and stands the test of time.

The genuineness of Orcival Products, (100% made in France, from knitting to manufacturing) is living up to the required know-how for running the Rachel machines: they need for each output a handmade warping for about 1500 threads, just before meticulously knitting. A single mistake in the order of the threads during warping or a moment's inattention during knitting means an immediate failure.

The Orcival Heavy Cotton quality is a jersey fabric knitted on a circular loom. It is a traditional form of knitting requiring skill and years of knowledge. Your Orcival T-shirt gives you the same proof of genuineness as before, because still 100% made in France.

But time has come for a quick definition: Jersey (named from the isles of Jersey) is a weft knit fabric that is knitted on a single set of needles with all loops meshing in the same direction: each loop is drawn through other loops to the right side of the fabric.

A resolutely modern brand
Orcival, using no synthetic fibers or resin for stability, commits itself to bring down its quantity of waste through optimization of cutting process, using OEKO-TEX certified yarns for knitting, and abiding by REACH regulations (European norms concerning raw materials).

Orcival famous logotype was registered at the same time of the brand.
Aware and concerned about the bee's fast decline, Orcival decided to sponsor beehives before a traditional beekeeper. But the location is specific: in order to pay tribute to the founder Charles Bert, the beehives are located in the… Orcival town vicinities.
Orcival bees at Orcival!