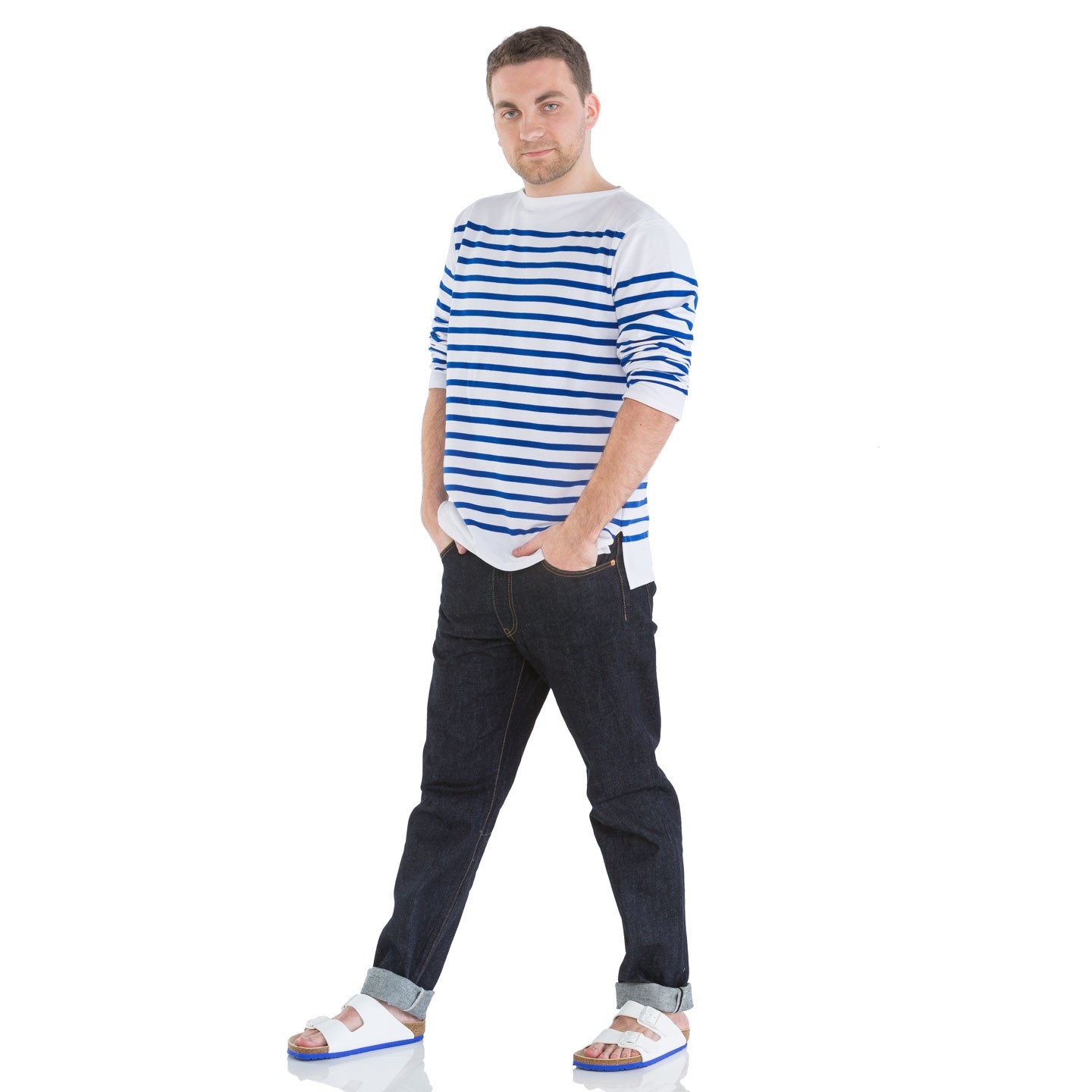  
The genuine men's French Marinière Marine Nationale
The genuine Marine Nationale French sailor shirt.
The iconic, authentic, French Navy marinière Orcival is 100% made in France since 1939 non-stop in the brand factory.
In 2017 the MoMA chose one Orcival Marine Nationale top to epitomize the genuine French marinière.
The French Navy marinières jersey are still made on venerable "Rachel" looms. 
The blue embroidered bee-badge is the original emblem of Orcival since 1939.
The boat-neck features the true marinière. 
Only trust the original brand ! 
Orcival.com is the official webshop of Orcival and its marinières, making in France since 1939. Orcival is a genuine brand, with an eight-decade history, a strong commitment to preserve know-how and high-quality products. Orcival keeps manufacturing in France timeless, iconic marinières, deeply rooted in our cultural background and heritage. Orcival is the household name for the French marinière. 
• Our 100% cotton t-shirts are machine-washable at 30°C or by hand, particularly recommended for heavy weight cotton t-shirts..
• Please separate white or ecru clothes from colored ones to avoid potential color migrations from other items.
• Let dry t-shirts flat right after washing to keep their shape.
• Never use a drying mashine because our knitted t-shirts are made in natural materials : pure cotton, linen, or mix of cotton/linen.
• Please bear in mind to ironing our tops inside out.
• Our jerseys are not treated with resins, so they might shrink a little bit after the first wash only.
• Our garments are made to last : the more you take care of them, the longer they will last. They will keep their authenticity, their sartorial elegance, their good shape and fitting, for your greatest satisfaction.
Standard & express shipping
Orcival Workshops strives to ship products as quickly as possible. The standard delivery times are indicated when you choose the carrier. If you wish a particular date of delivery, or faster, you can request us through the contact-page.
Returns
Return requests must be made through the contact page or directly from the customer account. In case of exchange please specify size and color on the return form. Returns are accepted within 14 days from the date of delivery.
Delivery Zone
Germany
Austria
Belgium
Danemark
Spain
Finland
France
Hungary
Ireland
Italia
Luxembourg
Norway
Netherlands
Portugal
Czech Republic
United-Kingdom
Sardinia
Sicilia
Slovakia
Sweden
Switzerland (Contact-us)
Australia
Canada
United-States
South Korea
Japan
Hong-Kong
Singapore
Free delivery* For purchase over 100€ in France and 150€ in Europe
Secure payment By Credit card, Paypal, American Express & more
Returns / exchanges Within 14 days
The authentic mariniere brand Orcival manufacture 100% in France the genuine French mariniere.